Embarking on a Disney cruise is an enchanting journey into a world of wonder and excitement, and you might be pleasantly surprised to discover that the magic goes beyond what meets the eye in the initial price tag. In this comprehensive guide, we delve into the heart of what is included in a Disney cruise fare, ensuring that you're well-prepared to make the most of your family's seafaring escapade. From the delightful staterooms to the delectable dining experiences, we'll explore the enchantment that awaits you, along with a careful look at additional costs you might encounter.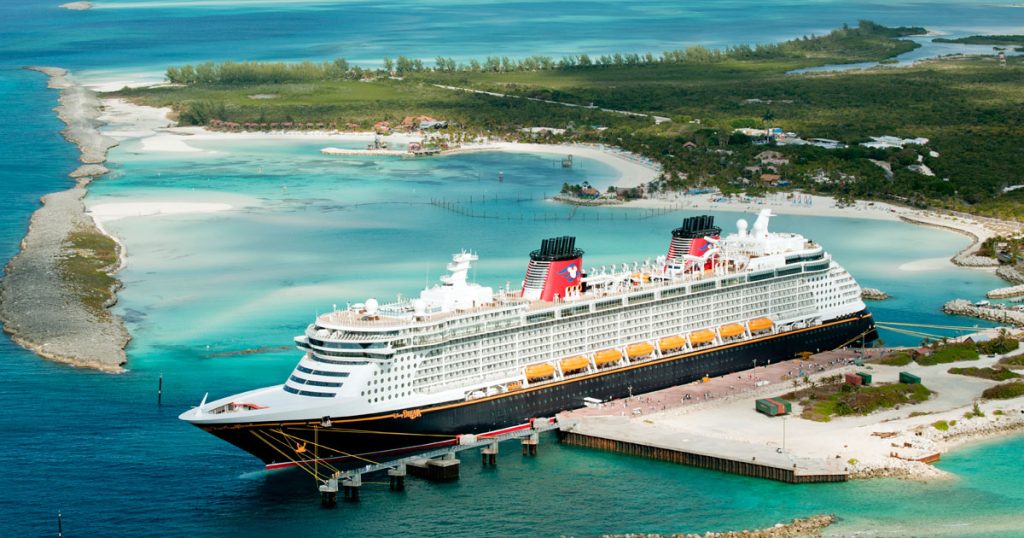 What is included on a Disney Cruise
Your haven at sea, the stateroom, is more than just a place to rest your head—it's a vital part of the Disney cruise experience. Included in your cruise fare, Disney Cruise Line ensures that your family's home away from home is brimming with comforts. Here's what you can expect:
✔️ Stateroom Accommodations: An Inclusive Retreat
Every stateroom, from snug cabins to extravagant suites, is meticulously designed with your family in mind. Standard amenities include:
Split Bathrooms (Most Staterooms): Offering convenience for your family's morning and evening routines.
Complimentary Toiletries: Pamper yourself with H20 Plus-branded spa, bath, and shower toiletries provided by Disney.
Entertainment Essentials: Enjoy TV and in-room movies, ensuring entertainment at your fingertips.
Mini-fridge: Perfect for storing snacks and beverages.
Hairdryer: Travel light knowing that a hairdryer is at your disposal.
Ample Storage: Unpack and settle in with plenty of storage space for your luggage.
Privacy Curtains (Most Staterooms): Enhance your privacy with curtains dividing the primary bed area from the living space.
Twice-daily Housekeeping: Your stateroom is cared for with housekeeping services provided twice a day, ensuring a tidy and comfortable retreat.
Choosing a Disney cruise is not just about a vacation; it's about immersing yourself in an experience where every detail is crafted to make your journey extraordinary.
✔️ Main Dining and Buffets: A Feast for All
Dining on a Disney cruise is a celebration of flavors, with meals at three themed dining restaurants, buffets, and quick-service options all included. Highlights of your dining experience encompass:
Three Themed Main Dining Restaurants: Immerse yourself in the magic of themed dining at venues like Triton's, Animator's Palate, and Enchanted Garden.
Buffets and Quick-Service Options: Enjoy a variety of dining styles, from casual buffets to quick-service spots, offering flexibility in your dining choices.
Complimentary Beverages: Quench your thirst with complimentary soda, tea, coffee, and water in dining rooms and on the deck.
"All-You-Care-to-Enjoy" Soft-Serve Ice Cream: Indulge in a sweet treat with unlimited soft-serve ice cream available whenever the craving strikes.
24/7 Room Service: Whether it's a midnight snack or a leisurely breakfast, room service is at your beck and call 24/7.
From upscale restaurants to casual dining and poolside snacks, Disney Cruise Line ensures that your culinary journey is a highlight of your voyage.
⚠️ Specialty Restaurants: A Culinary Extravaganza (Not Included)
While the main dining experiences are inclusive, Disney offers exclusive adult-oriented specialty restaurants, such as Remy and Palo, that come with an extra charge. Let's explore these culinary gems:
Remy: An adult-only haven on the Disney Dream and the Disney Fantasy, Remy offers exquisite French cuisine, creating a culinary masterpiece for those seeking an upscale dining experience.
Palo: Savor traditional Northern Italian cuisine with a contemporary twist at Palo, an elegant adults-only restaurant available on most Disney cruise ships.
Palo Steakhouse (Disney Wish): Elevate your dining experience on the Disney Wish with Palo Steakhouse, blending Italian flair with the highest-quality beef.
Enchanté (Disney Wish): Helmed by three Michelin Stars recipient Chef Arnaud Lallement, Enchanté promises a luxurious dining experience on the Disney Wish.
❌ Gratuity (Tips): Expressing Appreciation (Not Included)
While the cruise package is inclusive, it's customary to express appreciation through tips.
Stateroom Attendant and Dining Staff: Suggested total tip is $14.50 per passenger, per night, for your stateroom attendant and dining room staff. This can be prepaid or automatically charged on the final day of your cruise. Tiki Room Travel Stronly suggests that you prepay gratuities so they don't come as a surprise at the end of your cruise.
Ensuring your cruise is filled with gratitude, Disney provides guidance on tipping etiquette for a seamless and appreciative journey.
⚠️ Beverages: Quenching Your Thirst (Partially Included)
Quenching your thirst is a breeze on a Disney cruise, with unlimited free soda, coffee, tea, milk, juice, and water at meals. Additionally, the pool deck boasts free all-you-can-drink soda stations. However, some beverages come with additional costs:
Alcoholic Drinks: Raise a toast with alcoholic beverages, available for purchase at bars and lounges.
Specialty Drinks and Bottled Beverages: Explore a variety of specialty drinks and bottled beverages, each with its unique flair, at an extra cost.
✔️ Self-Serve Ice Cream: A Sweet Delight (Included)
Satisfy your sweet tooth with the delightful inclusion of a self-serve ice cream machine on the pool deck. Indulge in as much ice cream as your heart desires—it's a treat included in your Disney cruise fare.
✔️ Room Service Items: Culinary Comforts (Included)
For those moments when you crave the comfort of your stateroom, room service has you covered. From breakfast to snacks, enjoy complimentary room service items, though tipping the staff is expected.
✔️ Cruise Entertainment and Activities: Unleashing the Magic
Disney Cruise Line's entertainment offerings are nothing short of spectacular, promising a journey filled with excitement and enchantment.
Nightly Entertainment: Each night brings a new spectacle, from musical performances to themed events, ensuring your evenings are filled with magic.
Spectacular Stage Performances: Immerse yourself in Broadway-caliber productions at the Walt Disney Theater, featuring original Disney musicals and captivating acts.
Disney Movies and Theater Shows: Experience the magic of Disney movies in 3D at Buena Vista Theatre, a lavish cinema designed in Art-Deco style, all included in your cruise fare.
Immersive Kids' Clubs: Designed for young cruisers, the youth clubs offer free entertainment with well-trained Youth Coordinators, providing an enchanting experience for kids, tweens, and teens.
Adults-Only Spaces: Retreat to exclusive bars, lounges, and nightclubs tailored for adults, promising a sophisticated and enjoyable atmosphere.
Deck Parties and Character Meet-and-Greets: Join themed deck parties featuring your favorite Disney characters, and don't miss the chance for magical meet-and-greets.
⚠️ Castaway Cay and Lookout Cay at Lighthouse Point: Tropical Oasis (Partially Included)
As you sail to Disney's private islands, Castaway Cay or Lookout Cay at Lighthouse Point, anticipate a paradise filled with included and additional offerings:
Included: Lounge chairs, beach umbrellas, and on-island dining, soft drinks and ice cream are part of your Disney cruise fare.
Additional Fee Activities: Explore the island further with activities such as bike rentals, snorkeling equipment, watercraft, and private cabanas available for an extra charge.
Alcoholic Drinks: While Castaway Cay offers many free activities, alcoholic drinks at the island's bars come with an additional cost.
✔️ Kids Clubs (Ages 3 to 17): A Haven for Young Adventurers (Included)
Disney ensures that the young cruisers have a vacation filled with joy, with themed play spaces and entertainment:
Free Entertainment: Edge, Vibe, Disney's Oceaneer Club, and Disney's Oceaneer Lab are designed for kids, tweens, and teens, providing free entertainment and activities.
What is not Included on a Disney Cruise
❌ Airfare and Ground Transfers: Your Journey to the Ship (Not Included)
To embark on your Disney cruise adventure, you're responsible for the expenses related to airfare and ground transfers to the cruise port. Be aware of potential fees for parking if you're driving to the port.
❌ Specialty Restaurants: Indulgence at a Cost (Not Included)
While the main dining experiences are inclusive, the upscale Remy, Palo, Palo Steakhouse, and Enchanté come with additional charges. These restaurants offer extraordinary culinary experiences, making them worth the splurge for those seeking something special.
❌ Gratuity (Tips): Expressing Appreciation (Not Included)
Tipping is a customary part of the cruise experience, with suggested gratuities for your stateroom attendant and dining staff. Adjustments can be made based on your preferences at the Guest Services desk.
❌ Bottled Beverages: Quenching Your Thirst (Not Included)
While complimentary beverages include sodas, coffee, tea, and water, bottled beverages come with an extra cost. It's customary to tip your server for these additional offerings.
❌ Alcohol, Smoothies, and Other Specialty Drinks: A Toast to Luxury (Not Included)
Alcoholic drinks, smoothies, and specialty coffees at bars, cafes, and by the pool are not included in your cruise fare. Additional charges apply for those looking to indulge in these premium beverages.
❌ Popcorn, Peanuts, and Other Snacks: Extra Tidbits (Not Included)
While the cruise offers plenty of inclusive dining, some snack items like popcorn, peanuts, and packaged snacks come with an additional cost. For the nightly show, there will be popcorn and snacks for sale if you wish to purchase.
❌ Royal Court Royal Tea: A Majestic Affair (Not Included)
Experience the grandeur of the Royal Court Royal Tea, a character dining experience that includes two courses, storytelling, and interactions with Disney princesses. This enchanting affair comes at a cost, with $220 per child (ages 3-12) and $69 per accompanying adult.
❌ Shore Excursions: Exploring Ports of Call (Not Included)
Immerse yourself in local cultures with Disney Cruise Line's shore excursions, available for an additional fee. While some may prefer guided experiences, others can explore ports independently without incurring additional charges.
❌ Senses Spa & Salon: Indulging in Luxury (Not Included)
Pamper yourself at the Senses Spa & Salon, offering a range of beauty treatments and salon services with ocean views. While the services come at an extra cost, the indulgence is worth it for those seeking relaxation and rejuvenation.
❌ Souvenirs: Capturing Memories (Not Included)
Take home a piece of the magic with souvenirs from gift shops. Keep in mind that these mementos are not part of the Disney cruise package and require additional funds.
⚠️ Internet: Staying Connected (Partially Included)
Stay connected with complimentary Wi-Fi access for the Disney Cruise Line Navigator app. For broader internet usage, consider purchasing one of the Disney Cruise Wi-Fi packages based on your needs and preferences.
❌ Laundry: Freshening Up at a Cost (Not Included)
While self-serve laundry is available at a small cost, dry cleaning and laundry services are additional expenses. Keep your wardrobe fresh with these optional services during your cruise.
⚠️ Photography: Capturing Moments (Partially Included)
Professional photographers onboard will capture your magical moments, with the option to purchase photo packages. Save on costs by having a Cast Member take pictures using your own camera for a budget-friendly alternative.
❌ Private Island Rentals & Alcohol: Additional Island Adventures (Not Included)
While many activities on Castaway Cay and Lighthouse Point are complimentary, rentals (bikes, snorkeling equipment, watercraft, private cabanas) and alcoholic drinks incur extra fees. Plan accordingly if you wish to indulge in these additional offerings.
❌ Nursery Care (6 months to 3 years old): Childcare with a Fee (Not Included)
For families with younger members, the "it's a small world" nursery! offers childcare at specified rates, providing flexibility for parents seeking some leisure time.
❌ Calls to Shore: Staying Connected Beyond the Seas (Not Included)
Making phone calls from the cruise ship to home or other shore locations involves a per-minute charge. While it provides an optional communication method, be aware of the associated costs.
❌ Bibbidi Bobbidi Boutique: Transformative Makeovers at a Cost (Not Included)
For little ones aspiring to be princesses, princes, or pirates, the Bibbidi Bobbidi Boutique offers makeovers at an extra cost. These enchanting services add a touch of magic to your cruise, though they're not part of the complimentary offerings.
Navigating the Costs: Planning Your Budget
As you embark on your Disney cruise adventure, understanding what's included and what's not allows you to plan your budget effectively. Consider your family's preferences and prioritize experiences that align with your cruise expectations. Whether you're indulging in fine dining at specialty restaurants, treating yourself to spa services, or capturing moments with professional photos, your cruise is tailored to be as magical as you desire.
In summary, a Disney cruise offers a plethora of inclusive delights, allowing you to revel in the enchantment without worrying about extra costs. While certain experiences and services come with additional charges, the memories created on your magical journey are undoubtedly priceless. Bon voyage, and may your Disney cruise be filled with joy, wonder, and moments that last a lifetime!