In early 2025 (January through early May), Disney Cruise Line will feature new and fan-favorite itineraries, bringing guests more options for fun in the sun from four home ports in the United States. From voyages that stop at one or both of Disney Cruise Line's island destinations in The Bahamas, to the Disney Treasure's inaugural season of seven-night voyages to the Eastern and Western Caribbean, to a tropical sailing to Hawaii or the South Pacific aboard the Disney Wonder, early 2025 will provide a myriad of adventures aboard Disney Cruise Line's six ships.
2025 Disney Cruises (Early) Booking Dates
Bookings for most 2025 Disney Cruises (Early) open on Monday, October 20, 2023. Bookings for the new Disney Treasure opened a few months ago, and are available to book today.
Pearl Castaway Club Members: Monday, October 30, 2023
Platinum Castaway Club Members, Golden Oak and Club 33 Members: Tuesday, October 31, 2023
Gold Castaway Club Members: Wednesday, November 1, 2023
Silver Castaway Club Members, Disney Vacation Club and Adventure Insiders: Thursday, November 2, 2023
Bookings open to all Guests: Monday, November 6, 2023
Delight in Disney's Island Destinations
In early 2025, the Disney Fantasy, Disney Wish, Disney Dream and Disney Magic will all offer an assortment of three- to five-night getaways from Florida to Disney Cruise Line's Bahamian destinations – the new Disney Lookout Cay at Lighthouse Point and the beloved Disney Castaway Cay. The Disney Fantasy and Disney Wish will set sail from Port Canaveral, Florida, while the Disney Dream and Disney Magic will voyage from Fort Lauderdale, Florida. Aboard all four ships, guests will have the opportunity to experience one of the Disney island destinations, with each ship also offering at least one special itinerary that will sail to both Disney Lookout Cay at Lighthouse Point and Disney Castaway Cay.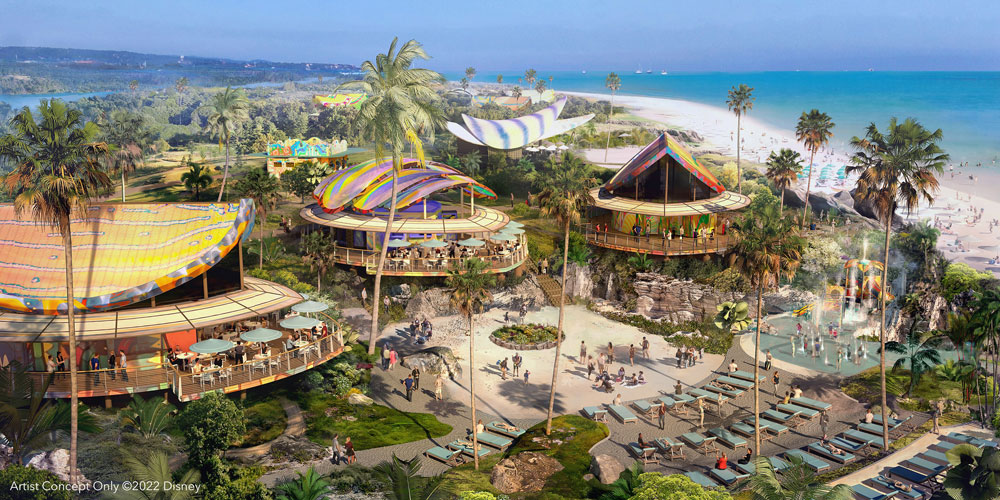 Disney Lookout Cay at Lighthouse Point, Disney's celebration of The Bahamas and its newest, one-of-a-kind island retreat located on the island of Eleuthera, will welcome families with breathtaking natural beauty combined with the magic of Bahamian storytelling and artistry. Purposefully designed to be a unique fusion of Bahamian culture and Disney experiences, Disney Lookout Cay at Lighthouse Point will feature Bahamian art and music paired with signature Disney entertainment, sweeping architecture inspired by Bahamian natural wonders brought to life by Disney Imagineers and opportunities to explore Eleuthera through unique port adventures.
Meanwhile Disney Castaway Cay, Disney's private island paradise in The Bahamas, will continue to provide guests of all ages with relaxation and adventure amidst its turquoise waters and lush landscapes. The whimsical tropical hideaway provides a hassle-free experience for a fun and relaxing beach day coupled with a picture-perfect setting with distinctly Disney touches.
The Disney Treasure's Inaugural Season
Following its maiden voyage on Dec. 21, 2024, the newest ship in the Disney Cruise Line fleet, the Disney Treasure, will embark on an inaugural season of seven-night itineraries to the Eastern and Western Caribbean from Port Canaveral. Eastern Caribbean sailings will take families to the beautiful island of Tortola in the British Virgin Islands, Disney Castaway Cay and either San Juan, Puerto Rico, or St. Thomas, while Western Caribbean sailings will bring families to destinations such as Falmouth in Jamaica, Grand Cayman and Cozumel, Mexico. The week-long voyages will offer at least two days at sea, giving families more time to enjoy the unique spaces, immersive dining and world-class entertainment onboard the Disney Treasure.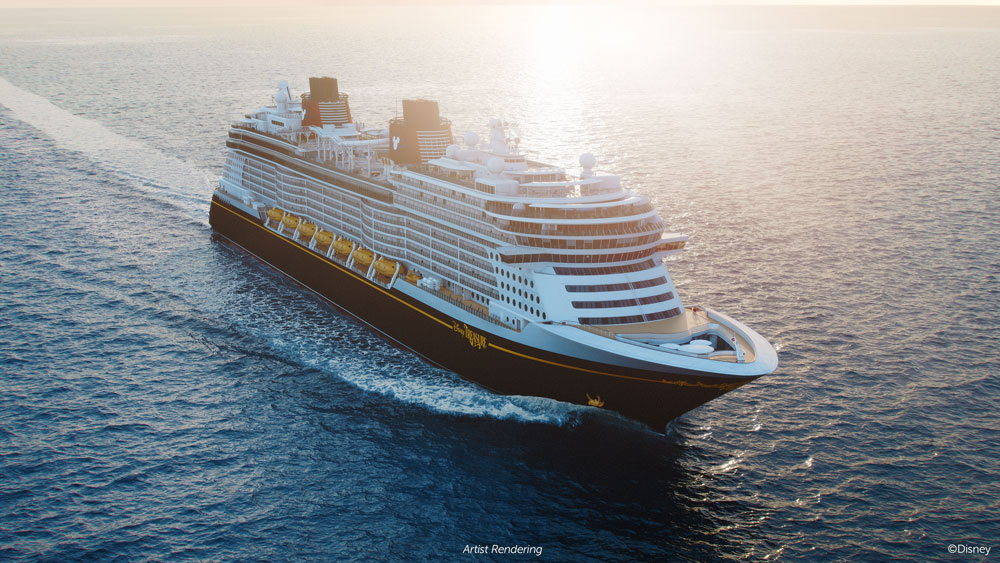 Pacific Voyages Aboard the Disney Wonder
The Disney Wonder will conclude its second season in Australia and New Zealand in early 2025 with a special 15-night South Pacific cruise from Sydney, Australia, to Honolulu, Hawaii. Its return to North America will feature two more special sailings: a nine-night Hawaiian Island cruise from Honolulu to Vancouver, Canada in late February, followed by a five-night cruise from Vancouver to San Diego, California, in early March. From San Diego, the Disney Wonder will take guests on three- to seven-night adventures to the Mexican Riviera or the Baja Peninsula.
Adventures from Texas on the Disney Magic
Before homeporting in Fort Lauderdale, Florida, the Disney Magic will also offer the opportunity to visit Mexico on a Disney Cruise Line vacation. For the first three months of 2025, the Disney Magic will sail to Progreso and Cozumel in Mexico and Grand Cayman from Galveston, Texas. In April, the ship will set sail on a special seven-night cruise from the Lone Star State to San Juan, Puerto Rico that will stop at both of Disney's island destinations, before returning to the Sunshine State  for a series of three- to four-night sailings from Fort Lauderdale, followed by four- and five-night sailings from Port Canaveral to Nassau and at least one of Disney's island destinations in The Bahamas.
Tiki Room Travel Tips
Now with 6 ships sailing in the United States, 5 sailing from the South East, there are plenty of options for you to choose from for your Disney Cruise. Make sure to check all ships and ports, as there will likely be 8 – 9 cruises a week sailing out of Florida or Galveston. If you can, avoid the Disney Treasure for now (unless you have to). Other ships will be less expensive, as the demand for the new Treasure is very high right now. It will calm in a year or two, but new shiny things attract everyone.
2025 Disney Cruises – Itineraries
Caribbean Cruises
4-Night Western Caribbean
Disney Magic from Galveston, TX
2025 SAIL DATES: Jan 2, 6, 15, 29 • Feb 12, 16, 20 • Mar 2, 6, 16, 20
5-Night Western Caribbean
Disney Dream from Fort Lauderdale, FL
2025 SAIL DATES: Jan 4, 18 • Feb 1, 15 • Mar 1, 15, 29 • Apr 12, 26
5-Night Western Caribbean
Disney Magic from Galveston, TX
2025 SAIL DATES: Jan 10, 19, 24 • Feb 2, 7
6-Night Western Caribbean
Disney Magic from Galveston, TX
2025 SAIL DATES: Feb 24 • Mar 10
7-Night Western Caribbean
Disney Treasure from Port Canaveral, FL
2025 SAIL DATES: Jan 11, 25 • Feb 8, 22 • Mar 8, 22 •Apr 5, 19 • May 3, 17, 31
7-Night Eastern Caribbean
Disney Treasure from Port Canaveral, FL
2025 SAIL DATES: Jan 4, 18 • Feb 1, 15 • Mar 1, 15, 29 • Apr 12, 26 • May 10, 24
Bahamas Cruises
3-Night Bahamian
Disney Wish from Port Canaveral, FL
2025 SAIL DATES: Jan 3, 10, 17, 24, 31 • Feb 7, 14, 21, 28 • Mar 7, 14, 21, 28 • Apr 4, 11, 18, 25 • May 2, 9, 16, 23, 30
3-Night Bahamian
Disney Fantasy from Port Canaveral, FL
2025 SAIL DATE: May 1
3-Night Bahamian
Disney Dream from Fort Lauderdale, FL
2025 SAIL DATES: May 9, 16, 23, 30
3-Night Bahamian
Disney Magic from Fort Lauderdale, FL
2025 SAIL DATES: Apr 4, 11, 18, 25
4-Night Bahamian
Disney Wish from Port Canaveral, FL
2025 SAIL DATES: Jan 6, 13, 20, 27 • Feb 3, 10, 17, 24 • Mar 3, 10, 17, 24, 31 • Apr 7, 14, 21, 28 • May 5, 12, 19, 26
4-Night Bahamian
Disney Fantasy from Port Canaveral, FL
2025 SAIL DATES: Jan 15, 29 • Feb 12, 26 • Mar 12, 26 • Apr 9, 23, 27
4-Night Bahamian
Disney Magic from Port Canaveral, FL
2025 SAIL DATES: May 7, 21
4-Night Bahamian
Disney Dream from Fort Lauderdale, FL
2025 SAIL DATES: Jan 9, 23 • Feb 6, 20 • Mar 6, 20 • Apr 3, 17 • May 1, 5, 12, 19, 26
4-Night Bahamian
Disney Magic from San Juan, PR ending in Fort Lauderdale, FL
2025 SAIL DATE: Mar 31
4-Night Bahamian
Disney Magic from Fort Lauderdale, FL
2025 SAIL DATES: Apr 7, 14, 21, 28 • May 2
5-Night Bahamian
Disney Dream from Fort Lauderdale, FL
2025 SAIL DATES: Jan 13, 27 • Feb 10, 24 • Mar 10, 24 • Apr 7, 21
5-Night Bahamian
Disney Fantasy from Port Canaveral, FL
2025 SAIL DATES: Jan 5, 10, 19, 24 • Feb 2, 7, 16, 21 • Mar 2, 7, 16, 21, 30 • Apr 4, 13, 18
5-Night Bahamian
Disney Magic from Port Canaveral, FL
2025 SAIL DATES: May 11, 16, 25, 30
7-Night Bahamian
Disney Magic from Galveston, TX ending in San Juan, PR
2025 SAIL DATE: Mar 24
Mexico Cruises
3-Night Baja
Disney Wonder from San Diego, CA
2025 SAIL DATES: Mar 14, 28 • Apr 4, 11, 18 • May 2, 5
4-Night Baja
Disney Wonder from San Diego, CA
2025 SAIL DATES: Mar 10, 17, 31 • Apr 7, 14, 21
7-Night Mexican Riviera
Disney Wonder from San Diego, CA
2025 SAIL DATES: Mar 21 • Apr 25
Pacific Cruises
4-Night Pacific Coast
Disney Wonder from San Diego, CA ending in Vancouver ,Canada
2025 SAIL DATE: May 8
5-Night Pacific Coast
Disney Wonder from Vancouver, Canada ending in San Diego, CA
2025 SAIL DATE: Mar 5
9-Night Hawaiian
Disney Wonder from Honolulu, HI ending in Vancouver, Canada
2025 SAIL DATE: Feb 24
15-Night South Pacific
Disney Wonder from Sydney, Australia ending in Honolulu, HI
2025 SAIL DATE: Feb 10